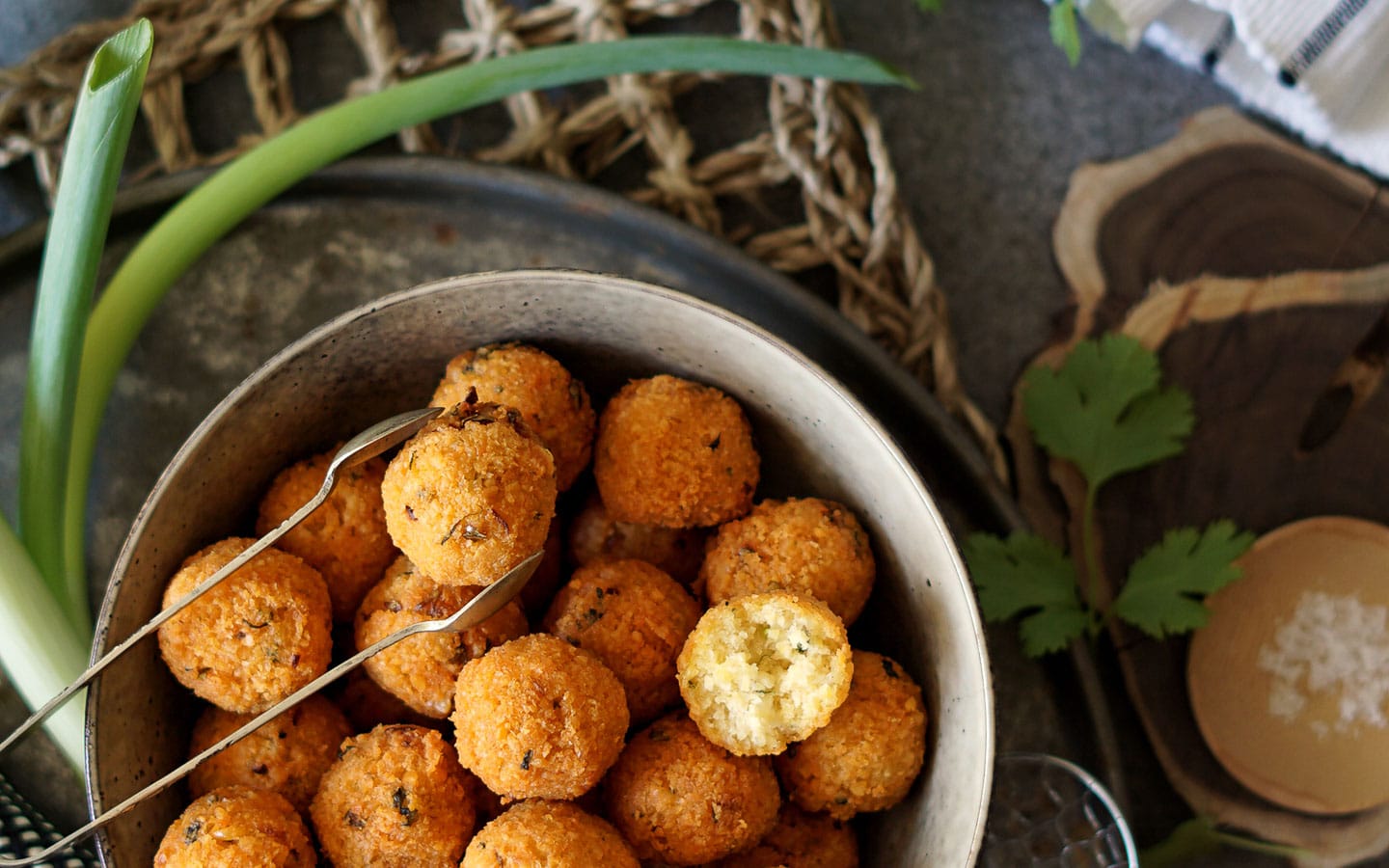 Food is an important part of life in Mauritius! Mauritian food is influenced by our diverse mix of Indian, Chinese, African and European cultures, creating a literal melting pot of flavours. Taste sizzling street food, soft and floury dholl puris, spicy biryanis, fried noodles, jamalac flavoured with chilli salt and sweet pastries.
Home-cooked, street food or gourmet, you can taste your way around the island.
Quick facts about our Mauritian food:
Food is an important part of life in Mauritius!
Our food is influenced by our diverse mix of Indian, Chinese, African and European cultures
The island has an incredible street food scene
Fine dining is available, both in luxury hotels and resorts and independent restaurants on the island
Tuck into Chinese noodles, spicy biryanis, sweet pastries and more!
Here are a few Mauritian dishes we think you should try:
Gateaux Piments
Try gateaux piments (Mauritian chilli poppers) during your stay. Like falafel with a fiery kick, these crispy fritters are a traditional local snack made with split peas, chillies and coriander. Our favourite way to eat them? Crumbled inside a fluffy white baguette…
Dholl puri
This is a popular street food in Mauritius, and you can find it almost everywhere! Dholl puri (or dalpuri) is a flatbread made from yellow split peas that are ground into flour, then stuffed with a mixture of cooked yellow split peas, chutney and pickles. It's often served with curry and is a perfect meal for lunch.
Boulettes
Boulettes are small steamed dumplings that come with all sorts of fillings, including shrimp, lamb, squash, chicken, fish, tofu, fish and calamari. They are served in a hot broth with vegetables and noodles, and they are a popular street food that you can find all over the island. This is the perfect dish for a light dinner or snack.
Biryani
Discover the famous Mauritian Biryani, a mixed rice dish prepared with spices and meat, which originated from the Indian subcontinent. The Mauritian biryani is unique and flavoured differently to other places you might have tried it before. More than just a dish, the scent of its spices are said to evoke celebration, and it has become the favourite meal for special occasions within many Mauritian families.
Poudine Maïs
Indulge in the taste of Mauritian culture with our creamy and delicious poudine maïs. Made with polenta/cornmeal, milk, fragrant spices, and topped with grated coconut this traditional dessert is a must-try for any food lover visiting Mauritius.
Fish Vindaye
Fish Vindaye is a dish that is typically made with fish, but it can also be made with chicken or vegetables. It's a curry that is made with mustard, turmeric, onions, and garlic, and it has a tangy, spicy flavour. It's often served with rice and is a perfect dish for dinner.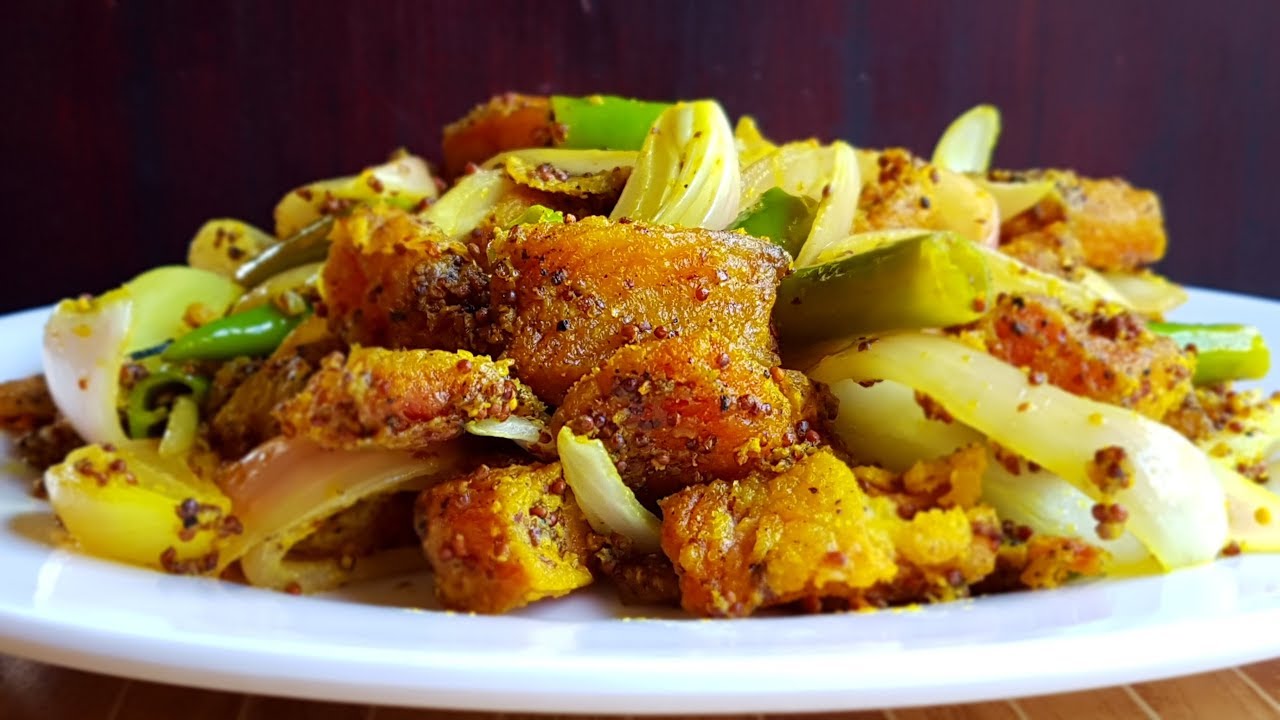 Bol Renversé
A beloved dish in Mauritius, Bol Renversé literally means "upside-down bowl". It's a layered dish consisting of rice, stir-fried vegetables, meat or seafood, and a fried egg on top. The dish is then flipped over onto a plate before serving, creating a beautiful presentation. You can find this dish in many restaurants around the island.
Napolitaine
Mauritius is a great place to try pastries, cakes and sweet treats. Napolitaine is a local favourite, often made of two melt-in-your-mouth shortbread slices, sandwiches together with some jam and drizzled with a layer of icing sugar. You'll find them in pâtisseries, supermarkets, food courts and tabagie shops across the island.
Rougaille
Rougaille (or rougail) is a classic Mauritian dish with a tomato-base and incredibly rich flavours from a mix of onions, garlic, ginger, thyme, chilli, coriander and curry leaves. Recipes are passed down from generation to generation, so you might get a different flavour depending on the chef! Once the base sauce is mastered, you can add your choice of meat, fish, seafood, eggs, vegetables or tofu.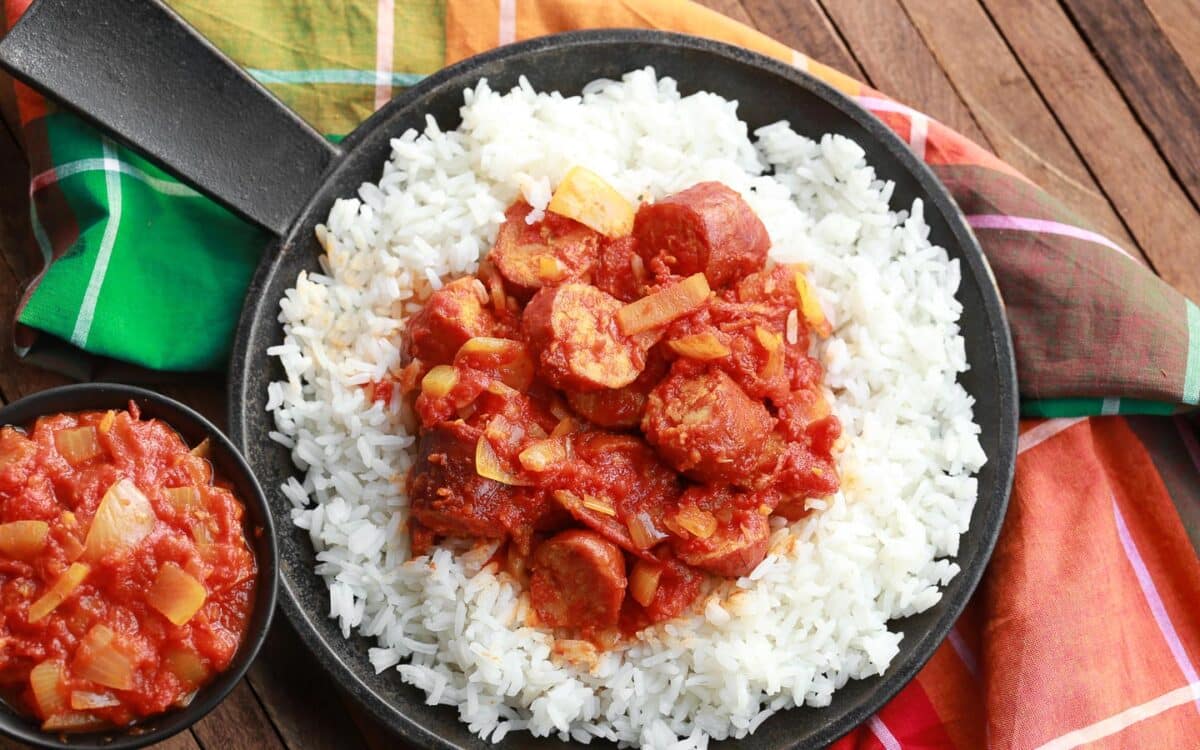 Jamalac
You can get different coloured jamalac, a sweet fruit filled with water. You might see a street or beachside stall selling cups full of the fruit, drizzled with tamarind juice – plus a bit of salt and chilli on top! Mauritians love chilli!
Note that you can find recipes for all these dishes (and a lot more!) on the Mauritius Recipes app.