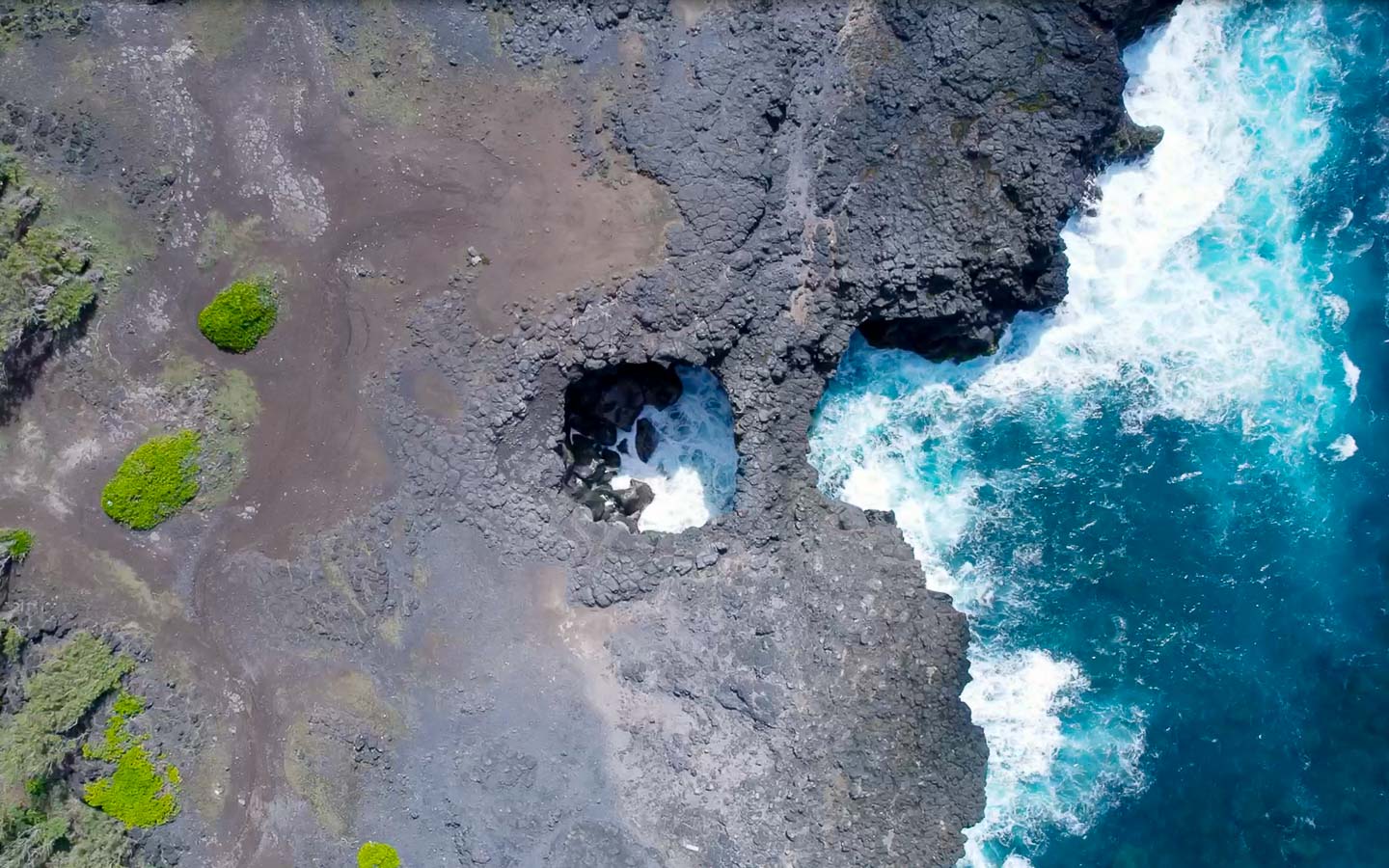 Mauritius island has a wild side. We sent our drone up to capture the beauty of the island's off-the-beaten track landscapes.
Pont Naturel
The bumpy roads you'll traverse to reach this dramatic natural landscape are well worth the journey. Pont Naturel (or natural bridge) is a volcanic rock formation stretching two metres across swirling glacier blue and white waves. It might look like a man-made construction, but it's entirely formed by natural processes. Water pours through tiny holes in the rock, making eerie whistling sounds known as "le souffler", which means "a blower". The sea here is strong and fierce, with waves smashing against the cliffs. For this reason, it's not suitable for swimming, but it's a magical spot to contemplate the power and beauty of nature. It's also a great spot for photographs – just make sure you don't veer too close to the edge…
Albion Lighthouse
This picturesque red-and-white striped lighthouse was inaugurated in 1910 and continues to guide incoming ships into the Port Louis harbour, emitting two white flashes every 10 seconds after dark. Standing at 30 metres in height, visitors can apply for permission to enter this unique building and climb the 98 wooden and cast-iron staircase to the top for gasp-inducing views along the coastline from Pointe aux Sables to Flic en Flac. If you don't have a head for heights, simply strolling along the clifftop, listening to the crashing waves and taking deep gulps of the clean, salty air is certain to rouse the senses. And its west coast location makes it an ideal spot to watch the sun set.
Cliff jumping at Montagne Zako
Adrenalin junkies assemble! Around four kilometres north of the Albion Lighthouse is one of the favourite spots in Mauritius for cliff jumping. The highest spot to jump here is 15 metres, but there are a range of smaller sized cliffs from which to launch into the aquamarine waters if you're not feeling that brave. It goes without saying that cliff jumping comes with its own risks, so never jump alone and leave it for another day if the sea is too rough. When the conditions are right, however, it's a thrilling and free way to have fun. If you decide to take the plunge, you do so at your own risk.
Bel Ombre
If you're seeking solitude, Bel Ombre on the southern coastline of Mauritius is the perfect destination to escape to. Flanked by lush green forest, this coastline offers empty and pristine white sand beaches and turquoise waters that are perfect for snorkelling and swimming. The village itself is peaceful – and there's even a museum devoted to seashells to explore. The World of Seashells is home to the largest collection of seashells in Africa, comprising over 8,000 pieces from around the world in all shapes, colours and sizes. Learn about the science, mythology and folklore associated with these delicate and beautiful phenomena.
Souillac
This authentic Mauritian village sits at the very bottom of this magnificent island. A secret spot worth exploring is the Jardin Telfair – a garden filled with tropical vegetation. Follow a coastal path from the garden to discover a wild sandy beach and watch the waves crash against the nearby cliffs. The garden was rumoured to be a favourite of Mauritian poet and writer Robert Edward Hart. A museum in his name is located just minutes away, where visitors can find out more about his life. And a short walk along the coast leads you to Gris Gris where you can find dramatic sea cliffs and excellent views out to sea.
Bambous Virieux
Escape the crowds at this serene coastal spot in the southeast of Mauritius. Wild and quiet, simply walking north along this majestic coastline, complete with emerald fields and mountains in the distance, is a wonderful way to spend a morning. Visitors can also stop off at Distillerie Ylang Ylang, where welcoming Laurianne will show you the plants she uses to create fragrant oils, soaps, candles and perfumes, which are available for purchase. Head north along the coast to La Case du Pêcheur to devour tiger prawns, seafood soup and other delicious dishes, with a stellar 360-degree view of sea, land and mountains.
Rivière Des Galets
In sharp contrast to the soft sand that covers much of the Mauritian coastline, the beach at Rivière Des Galets is covered with thousands of small pebbles. While it's a nice place to stop and watch the waves crash, the real draw is the Maconde Road (B9) that hugs the coastline. At around 25 miles long, this sensational drive runs from Souillac towards Grande Rivière Noire. With turquoise sea on one side and imposing wild vegetation and mountains on the other, this is one of the most scenic coastal drives in the world.
Pomponette and Riambel
These two beautiful, quiet beaches sit cheek-by-jowl off the picturesque B9 road just three miles down the coast from Rivière Des Galets. As one of the least developed regions of Mauritius, these are great secret spots for soaking up the rays on the white sandy beaches, but be warned that the sea at Pomponette can be very dangerous, with extremely strong currents, so it is safer to take a dip at Riambel. If you're not one for sun-worshipping, there's also the option to horse ride along the sands. A highly-rated rum shed bar and grill is also conveniently located across the road for those looking to quench their thirst.
Baie du Cap
Close to the foot of Le Morne Mountain sits Baie du Cap, a small, quaint village. Visitors to the area can climb the Maconde View Point for some magnificent views of this part of the island. Set on the unique peak of a small rocky cliff jutting out of the land, the viewpoint can be accessed by climbing a narrow staircase to the top, leading to incredible views of the sea and surrounding countryside. The wind can be strong as you approach the summit, so take care not to get too close to the edge. Head further north to the picturesque and long La Prairie beach, which is covered in a mix of sand and grass.