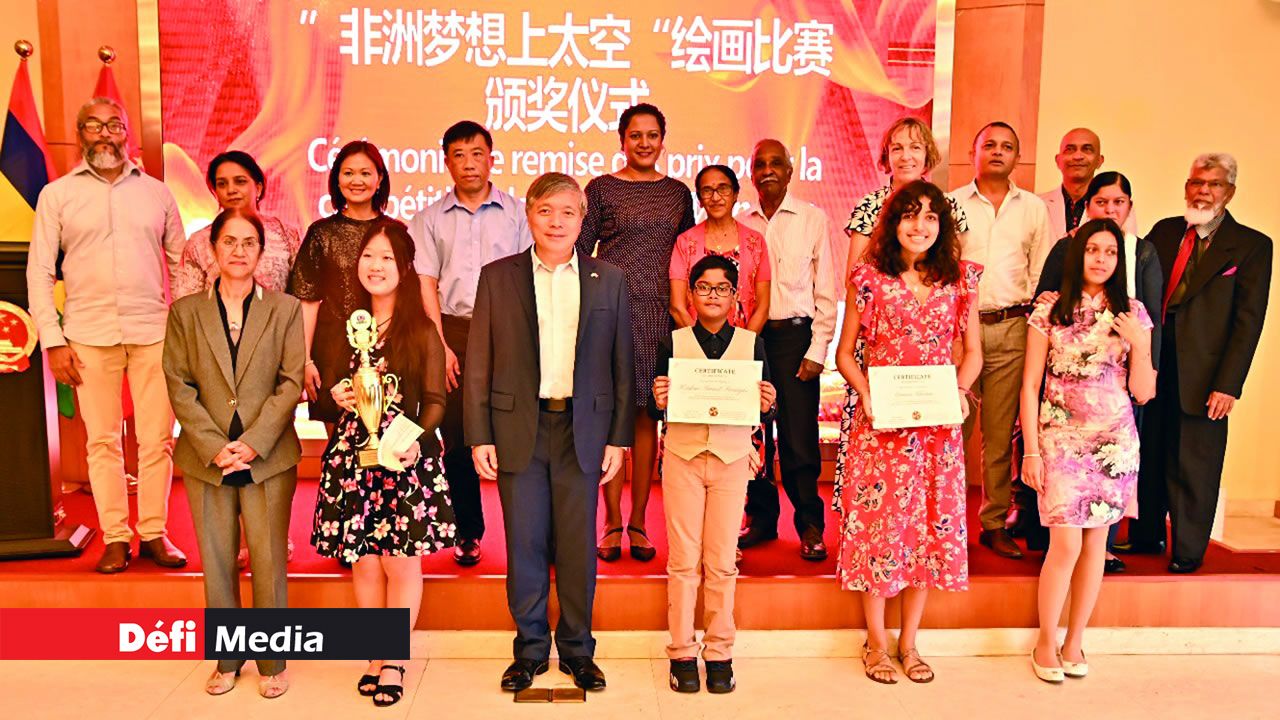 LIVE NEWS
The Chinese Embassy in Mauritius organized an international painting competition called "Mon Rêve" ("My Dream") in collaboration with the Secretariat of the Follow-up Committee of the Forum on China-Africa Cooperation and the China Manned Space Engineering Office. Among 50 participants from Africa, Lisa Grace Ng Hing Cheung from Mauritius took first place.
"The Education for All Dream" is the title of Lisa Grace Ng Hing Cheung's painting that won her the first prize in the international painting competition "Mon Rêve". This competition was organized by the Chinese Embassy in Mauritius together with the Secretariat of the Follow-up Committee of the Forum on China-Africa Cooperation and the China Manned Space Engineering Office.
The award ceremony took place on Wednesday, September 13, 2023, at the premises of the Chinese Embassy in Mauritius, located in Belle-Rose. The ceremony was attended by His Excellency ZHU Liying, Ambassador of People's Republic of China to Mauritius, Janick Jaunbocus, Permanent Secretary of Ministry of Education, Higher Education, Science and Technology, as well as participants and their families.
This was the first painting competition organized by the Chinese Embassy after COVID-19. The theme for this year's competition was "Mon Rêve," aiming to bring young Africans' dreams of space travel closer to reality. The competition was launched on March 1st and participants had until March 25th to submit their works along with a 200-word description of their artistic approach. The winner's name was announced on June 1st, 2023.
Fifty African artists, including eight from Mauritius, participated in this competition. A unique feature of this edition was that the top ten paintings were transported to Tiangong space station via China's Shenzhou spacecraft. These artworks were also globally showcased live on social media platforms. Lisa Grace Ng Hing Cheung's piece was highlighted alongside the others.
The objective of the competition was to strengthen Sino-African friendship ties and stimulate the artistic talents of young Africans. "Our contribution to realizing the dreams of young artists to travel in space is just the first step. I am confident that their artistic imagination and scientific work will take them even further," said the ambassador.
He also expressed his pride towards the young Mauritians who were selected among the 50 candidates, particularly Lisa Grace Ng Hing Cheung, the winner of the grand prize. "This achievement is not only a source of pride for her and Mauritian youth but also for all those working to strengthen cooperation and friendship between China and Mauritius," added the ambassador, which Janick Jaunbocus confirmed. She explained that this kind of activity strengthens educational links between both countries in arts and sciences.
Lisa Grace Ng Hing Cheung, an 18-year-old student at Mahatma Gandhi Institute, won the "Tianhe Prize" which rewards the top 10 selected works by a jury. She received a check worth 4,000 CNY (approximately Rs 24,650) along with a trophy.
The young woman stated that it is a great honor for her to have represented her country. She added that she still struggles to believe she won first place among all these talented artists. "The full extent of this event still escapes me, but I am extremely happy," she emphasized.
"It was my mother who encouraged me to participate in the competition. I was hesitant at first. But after letting myself be carried away, I realized it allowed me to reconnect with my heritage. As a Sino-Mauritian, it was a golden opportunity for me. I hope there will be other opportunities like this for Mauritian youth," said Lisa Grace Ng Hing Cheung, who has been practicing art since childhood and is currently studying it as one of her main subjects in college.
The idea for the painting came naturally to her because she enjoys painting children, and education is a topic that deeply resonates with her. "Nelson Mandela once said that education is the most powerful weapon we can use to change the world. I sincerely hope that one day, all children will have the opportunity to go to school and acquire the necessary knowledge to change their destiny."
Lisa Grace Ng Hing Cheung dedicated countless nights perfecting her artwork, even while juggling exams that coincided with the submission deadline. "I received incredible support from my friends, teachers, and parents. It is thanks to them that I was able to materialize my idea through my creation. My message to all young artists is to go for it and seize opportunities because art is a powerful means of expression, and when you pursue a goal with determination, you can achieve it," she concluded.
Discover the best restaurants in Mauritius.

Go

Find out where to stay in Mauritius.

Go
c