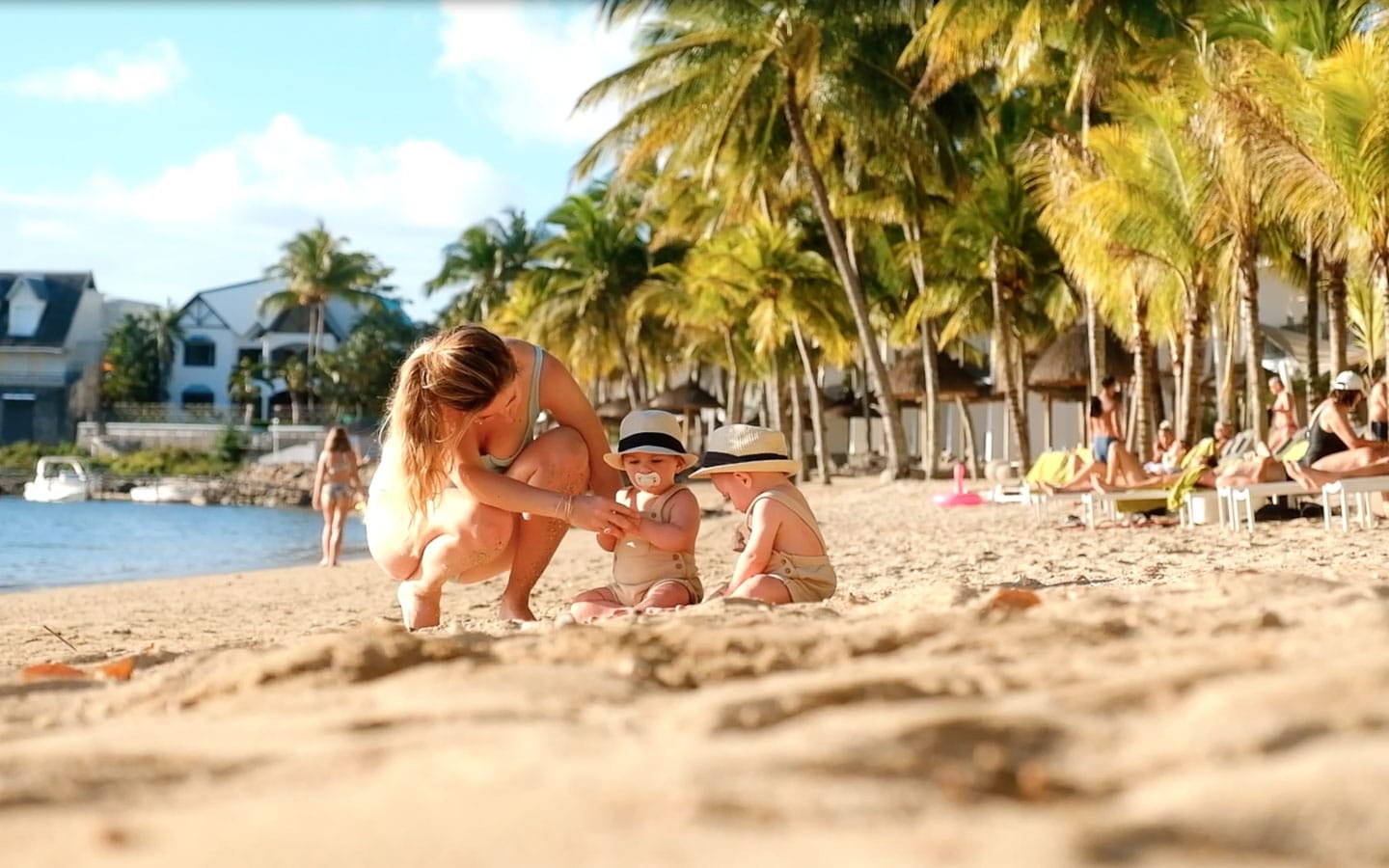 Your first holiday as a family should be special – and travelling with a baby doesn't have to be hard work. We caught up with Amanda from Un Duvet Pour Deux travel blog to find out about their first family holiday in Mauritius.
We loved Mauritius so much when we visited two years ago that we didn't even hesitate to come back, even with two babies. The island is full of child-friendly hotels and villas to choose from and perfect for parents with young kids. Travelling with a baby on a plane is the trickiest bit but, if you're not afraid of the flight, it's so worth it when you arrive! Flying with our little ones wasn't as difficult as I'd imagined, as we chose to fly directly through the night and there was little in the way of time difference. Here are a few tips and advice we can share after our own experience…
Travel as light as possible
Choose a hotel with great baby facilities. The Attitude Hotels we stayed in were great for travelling parents, as we pre-ordered cots, high chairs, bottle warmers and other baby bits, so we didn't have to lug everything with us while travelling. There was also a microwave and fridge in the family rooms we stayed in.
There are other babies on the island
When you fly abroad, parent brains sometimes go into overdrive about all the things you need to pack. But, remember, there are other babies on the island. I anticipated the small inconveniences that can occur during a trip, such as packing enough medication, and checked if the same infant milk was sold locally before we left. But you can find everything you need in the local supermarkets and pharmacies, from diapers to different brands of milk, including Baby Bio. I'd say the products sold in Mauritian pharmacies are very similar to those sold in France.
Feeding during take-off and landing
Remember, babies aren't used to flying! The change in air pressure during take-off and landing can be uncomfortable for little ones. Try and find things that will distract them or that they can suck, such as giving them a bottle or breastfeeding. I also packed small baby toys, teething rings and dummies to help with swallowing.
Book an aisle seat on the plane
You will definitely be getting up and down during the flight, so booking an aisle seat makes life so much easier. Alternatively, choose a seat with more legroom. It's a great idea to tell the airline you are travelling with a baby, as many can offer a baby cot during the flight and help you choose a seat. If you can't pre-book one, mention it at check-in and see what they can offer. The cabin crew are used to babies being on board and the airline we travelled with provided cots for babies up to 71cm and 8 months old, as a rough guide. Also, choosing a direct night flight was a great idea, so the babies could sleep as much as possible.
Car seat on transfers
We were able to take our pram, which is a travelling system with click-out baby seats. We could take the pram and both carriers on board the plane, free of charge (something which was valid for all flights and really useful to know!) The carrier conveniently doubled up as a car seat for our rental car, but you can always request a seat from your car rental company.
Use your priority boarding access
Make sure you leave enough time at the airport, so you don't end up rushing and increasing your stress levels! The majority of airlines give priority boarding to families with children, so use this time to board the plane and get organised before it gets busy. It's far less stressful to use the overhead compartments without people trying to get past you!
Pre-book a nanny or babysitter recommended by the hotel
We were lucky enough to have the contact of a nursery manager who agreed to look after our babies while we were away. If that's not an option for you, then it's also possible to book a babysitter who comes to the hotel the day before you need them. For older children (from 3 years), Attitude Hotels has a great kids' club, offering all sorts of activities to keep them busy throughout the day.
Check passport requirements
Allow plenty of time between applying for your baby's passport and the date you want to travel – it'll be one less thing to worry about as you get closer to your flight.
Try to get a room with a balcony or patio
Having a bit of outdoor space, such as a balcony or a patio, gives you the freedom to fully enjoy your evenings without straying from your room. Take the baby monitor outside and you can chat and enjoy a drink while your baby is sleeping, rather than staying in the room and having to whisper through fear of waking them up.
Sun protection
Nobody's happy when they're sunburnt! Make sure you take a high factor sun lotion, enjoy swimming in the late afternoon or early morning rather than at midday and don't forget a hat and sunglasses, not just for you but for babies, too.
Do your research
For peace of mind, make a note of where the nearest hospital/doctors are in relation to your accommodation. If something happens while you're away, you'll be able to go straight there. When we were in Mauritius, we went to a paediatrician for a cold and got an appointment within 24 hours.
Use the hotel laundry service
This can be quite expensive but it's very useful when travelling with a baby! You could also opt to stay in a villa and make use of the washing machine – you'll be thankful for it when there's less washing to do once you get home!
Keep sleeping babies in the shade
If your baby is having a nap while away, make sure they are in the shade. Don't ever be tempted to cover the pram with a muslin or a blanket to provide shade – this can create dangerously high temperatures.
Accept a changing schedule
Sometimes, you've just got to go with the flow. Your baby's sleeping pattern or schedule is bound to be different given the new surroundings and possible time difference. Relax and give in to a disrupted routine and enjoy your holiday and new experiences together!